Do Safety Incentive Programs Work?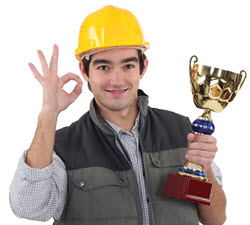 Across diverse industries, every organization confronts the potential for workplace accidents. Research underscores the efficacy of well-designed incentive programs in steering organizational triumph, fostering heightened employee engagement, and harmonizing individual performance with overarching business operations. These programs serve as a catalyst for cultivating a safety-conscious culture and driving collective efforts towards sustainable success.
Elements of an Effective Incentive Program.
Keep the following tips in mind when creating safety incentive programs.
1. Set a clear and measurable goal. Whatever the goal may be, restrict the incentive to a specific behavior or proactive measure within employees' control.
2. Actively engage your employees. Actively promote the program and put a positive perspective on the change. Consider implementing your program in a fun and interactive manner. Remember that both managers and employees must be excited about the program for it to achieve success.
3. Make sure the behavior can be easily measured and tracked. The easier it is for employees to track their success, the more likely it is that employees will actively participate.
4. Ensure that the program does not favor one group over another. Make sure that all employees can achieve a level of measureable success. An incentive program succeeds only when everyone has a chance to shine.
5. Include meaningful and frequent rewards. Incentives should excite and encourage employees to succeed. Make the incentives with employee interests and needs in mind. Consider gift certificates and paid time off.
6. Be willing to revise the program as necessary to achieve the goal. Few programs are perfect upon first being implemented. It is important to step back and evaluate your program to ensure your goal is being met in a positive manner. Ask yourself if goals are being achieved and if engagement is where it needs to be, etc. If the answer is no, evaluate why not and makes tweaks to ensure future success.
Can Safety Incentive Programs Include Lagging Indicators?
Yes. Safety incentive programs may include lagging indicators, such as injury rates, provided they are not implemented in a manner that discourages reporting.
So, Why the Confusion?
On May 12, 2016, OSHA published a final rule that added the following sentence to 29 CFR 1904.35:
"You must not discharge or in any manner discriminate against any employee for reporting a work-related injury or illness."
This sentence, as well as the language contained in the preamble to the May 12, 2016 Final Rule, was widely interpreted to mean that incentive programs based on lagging indicators would be considered by OSHA to be retaliatory and therefore could get employers into trouble.
However, in an October 11, 2018 memorandum, OSHA clarified that it believes incentive programs can be an important tool to promote workplace safety and stated that:
"Action taken under a safety incentive program or post-incident drug testing policy would only violate 29 CFR 1904.35(b)(1)(iv) if the employer took the action to penalize an employee for reporting a work-related injury or illness rather than for the legitimate purpose of promoting workplace safety and health."
OSHA also specifically addressed rate-based incentive programs by stating:
"Rate-based incentive programs are also permissible under 29 CFR 1904.35(b)(1)(iv) as long as they are not implemented in a manner that discourages reporting."
How Do You Implement Safety Incentive Programs Without Discouraging Reporting?
Per OSHA, an employer can avoid any inadvertent deterrent effects of a rate-based incentive program by taking positive steps to create a workplace culture that emphasizes safety, not just rates. OSHA further stated that any inadvertent deterrent effect of a rate-based incentive program on employee reporting would likely be counter-balanced if the employer also implements elements such as:
An incentive program that rewards employees for identifying unsafe conditions in the workplace;
A training program for all employees to reinforce reporting rights and responsibilities and emphasizes the employer's non-retaliation policy; and
A mechanism for accurately evaluating employees' willingness to report injuries and illnesses.
How Can EHS Software Help Manage Safety Incentive Programs?
EHS Software, such as Ecesis, improves employee engagement and centralizes the tracking of leading and lagging indicators.