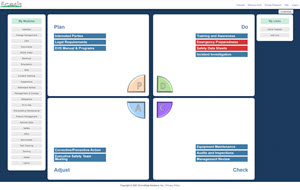 Our user-friendly ISO 14001 Software streamlines compliance with the ISO 14001 Standard and other environmental management system requirements.
Improve Environmental Performance with Our ISO 14001 Software!
Reduce Risk - Proactively identify risks, reduce liability and ensure compliance of ISO standard.
Demonstrate Compliance - Efficiently demonstrate compliance with ISO 14001 requirements through one, centralized source.
Standardize and Integrate - Through our integrated management system, we provide a solution for all of your management system needs, which enhances your company or organization's productivity.
Breeze Through Audits - Easily demonstrate compliance with management system requirements with intuitive data retrieval and reporting functionality.
Rapid Deployment - Create your site's cloud-based environmental management system within a matter of hours (versus weeks or months).
Cost Effective - Our EHS Management Software is less expensive than you might think; contact us to learn more!