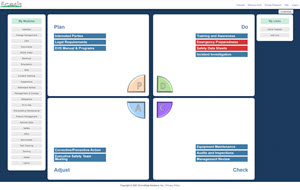 ISO 14001 Software helps streamline your environmental management system. With intuitive tools and features, management system software guides you through the entire compliance process.
Improve Environmental Performance with ISO 14001 Software!
Reduce Risk - Proactively identify risks and hazards so you can take appropriate actions to mitigate or eliminate them. This reduces liability and environmental risks that could otherwise lead to fines, legal actions, and reputational damage.
Streamline Compliance - Comply with environmental regulations by using a centralized platform. This platform can manage all environmental activities, such as waste management, emissions monitoring, and environmental reporting.
Improve Efficiency - Automate manual processes, such as data collection and reporting, which saves time and improves accuracy. This can also reduce the need for paper-based processes, resulting in a more environmentally friendly approach.
Enhance Communication - Improve communication and collaboration between departments and stakeholders, including suppliers and customers. This can help ensure that environmental goals are aligned across the organization and that everyone is working towards the same objectives.
Enhance Reporting - ISO 14001 compliance software can generate detailed reports that provide a comprehensive overview of compliance management activities. These reports can be customized to meet specific reporting requirements and can be shared with stakeholders easily.
Increased Transparency - Provide visibility into your company's environmental performance, making it easier to identify areas for improvement and track progress towards environmental goals. This can improve transparency with external stakeholders, such as regulators, investors, and customers. As well as any other organizations that may be interested in an organization's environmental performance.
Standardize and Integrate - Centralize all ISO 14001-related documentation, including policies, procedures, manuals, and records. Access up-to-date documents, simplify version control, and facilitate efficient document management.
Centralized Documentation - Ecesis allows you to use one system for all your management system needs. This includes ISO 14001, ISO 45001, ISO 9001, and more.
Breeze Through Audits - Easily demonstrate compliance with management system requirements with intuitive data retrieval and reporting functionality.
Rapid Deployment - Create your site's cloud-based environmental management system within a matter of hours (versus weeks or months).
Cost Effective - Our EHS Management Software is less expensive than you might think; contact us to learn more!