Why Do You Need an Effective EHS Incident Reporting and Investigation Program?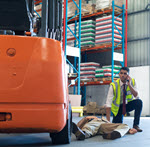 An effective incident reporting and investigation process ensures organizations:
Redcuce the severity, impact and costs of incidents that have occurred
Prevent future incidents from occurring
Improve EHS processes and systems
Maintain compliance with regulatory requirements
Engage personnel
Demonstrate good leadership
What Should Your Incident Management Program Include?
An effective incident management program needs to clearly outline:
Incident types that need to be reported and investigated
Responsibilities for:
Methods and timelines for reporting incidents
Reporting incidents
Responding to incidents
Investigating incidents
Methods and timelines for investigating incidents
How and when employees will be trained on incident reporting and investigation procedures
How incident information will be communicated to affected employees
How incident and investigation records will be maintained
Methods for tracking incidents and associated root causes as well the corrective actions that will be taken to prevent similar incidents from recurring.
What Incident Types Should Be Reported and Investigated?
Actual incidents (e.g. injuries, accidents and spills) and potential incidents (e.g. near misses and unsafe conditions) should be immediately reported. Reports should be made to a person(s) who has the knowledge and authority to summon the resources needed to respond to and control the incident.
It is crucial to include reporting and investigating of potential incidents as this will help you proactively ensure they do not become actual incidents where someone gets hurt, equipment gets damaged, etc.
Who Should be Responsible for Reporting and Investigating Incidents?
The responsible reporting of incidents is crucial, typically falling within the purview of the individual who directly witnessed or experienced them. Alternatively, if the primary individual is unable to initiate the report, someone well-acquainted with the incident details may undertake the reporting process. This approach ensures accurate and comprehensive incident documentation for further analysis and action.
Methods and Timelines for Reporting Incidents
The appropriate people within an organization should be quickly notified of incidents. Doing so ensures that swift and correct action is taken (e.g. emergency services are contacted and mitigation steps are implemented) and that all needed resources are identified.
Immediate Notification - Immediate notifications may be communicated in person, by phone, radio, or other verbal means. Incident Reporting Apps, such as Ecesis, may be used as they have the advantage of delivering targeted alerts based on incident types and locations in a quick and efficient manner.
Written/Follow-up Notification - Once immediate notifications have been made and critical response actions have been taken, incident-related details should be documented in writing and maintained according to company policy and procedure. An incident reporting software solution such as the Ecesis Incident Tracking and Reporting solution can help companies document any type of incident.
Methods and Timelines for Investigating Incidents
When to Start? Investigations should begin as soon as possible after an incident occurs to ensure important details are not lost or forgotten.
Who to Include in the Incident Investigation Team? Teams should be multi-disciplinary and include those who:
Are familiar with details of the incident
Are familiar with the processes involved in the incident
Have authority to implement corrective and preventive actions that come out of the investigation.
What Steps to Take? Incident investigations should generally follow the steps below:
Collect Information. Walk the incident scene, interview those involved, interview witnesses, gather equipment, and process information.
Determine Facts and Sequence of Events. After collecting information on the incident, analyze the information and organize the facts and sequence of events associated with the incident.
Determine Contributing Factors. Using the facts and sequence of events, brainstorm and document the incident's contributing factors.
Determine Root Causes. Determine the root cause of each contributing factor. It may be helpful to use a 5-Why or Fishbone analysis method.
Determine and Assign Corrective Actions. When one or more root causes have been identified, determine and assign root causes that will prevent further incidents.
Employee Training
Employees need to be trained on incident reporting requirements at time of hire. All employees should receive continual training on incident reporting but especially when the reporting methods change.
Communicating Incident Information to Employees
Employees must be informed of incidents and the immediate actions they can take to prevent similar events from occurring in their work areas. This may be done using a flash report that includes a high-level description of the incident along with it root causes and actions employees should take to prevent similar incidents.
Incident Recordkeeping Requirements
Maintaining incident-related records is important to:
Maintaining a historical reference of the incident and actions taken to avoid recurrence
Monitoring trends to establish the effectiveness of safety improvements
Meet regulatory reporting obligations
Per OSHA, businesses were fined $150,358 for failing to comply with OSHA's recordkeeping requirements (29 CFR 1904.4) between October 2019 and September 2020.
Tracking and Trending and Incident Information
Individual incidents should be tracked to ensure they are properly investigated and that appropriate corrective actions are taken and the effectiveness of corrective actions is verified.
Organizations should also track incident metrics over time. The following metrics can help determine if safety performance is improving and/or when and where additional corrective and preventive actions are needed.
Incidents by Type and Time
DART (Injuries/Illnesses resulting in days away, restrictions or job transfers) Rate over time
Vehicle accidents by miles driven
The following leading metrics can help organizations gain a better understanding of hazards before they become incidents and allows regulatory agencies to see steps taken to proactively mitigate hazards in the workplace.
Unsafe condition and near miss reporting
Performance observations
Safety audits performed
Safety training completed
What Do I Need To Do?
Get started today by establishing an effective incident reporting and investigation process.
Educate senior leadership as to the importance of incident investigation and reporting. Who in your organization can act as a corporate champion for incident reporting and can:

Provide the resources needed to report and investigate incidents as well as implement corrective actions
Establish an incentive program or reward for compliance, and
Discourage non-compliance through implementation of an effective discipline program.

Document your process. Have a written policy in place for reporting, managing, investigating, recording and tracking/trending incidents.
Train your employees. What is each employee expected to do in response to an incident and how will they accomplish that?
Practice. Hold drills to ensure your employees are knowledgeable on how to respond to an incident and that your organizations programs and resources are adequate. Identified issues should be assigned corrective actions that are tracked to completion.
Communicate Frequently. Share timely information on incidents as they occur and actions that need to be taken to prevent recurrence.
Track and Share Your Progress. Track incidents and regularly communicate both good and bad trends associated with the occurrence of incidents.
How Can We Help?
Our subject matter experts can help you:
Develop, document and implement an effective incident reporting and investigation process
Train employees
Investigate incidents and develop effective corrective actions
Hold and learn from incident drills and exercises
Help your company meets its incident investigation and reporting obligations.
Our Incident Reporting and Investigation Software can help you report, investigate and manage your incidents in one user-friendly tool.