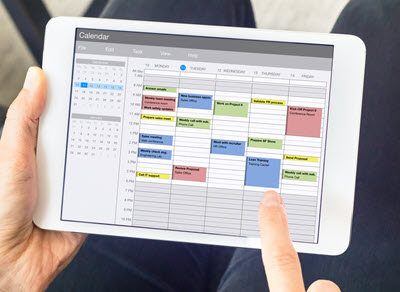 A compliance calendar is a valuable tool for managing deadlines associated with regulatory requirements, reporting obligations, permit renewals, and internal practices. This article reviews the benefits of a compliance calendar, reviews available tools, and provides a reliable method for developing your organization's compliance calendar.
Benefits Of Compliance Calendar Software
Compliance calendar software is a must-have for companies and organizations that must comply with regulations and laws. The benefits of compliance software include the following:
1. Institutionalized Information - An organization's compliance status should not depend on what is in someone's memory or a single individual's knowledge. Compliance calendar software puts your regulatory obligations and associated deadlines in a centralized location that is available to anyone in the organization.
"Our Compliance Calendar helps me sleep better. Now I know that if my compliance guy wins the lottery, I can hop into the compliance calendar and see what compliance obligations apply, what has been completed and what is coming due." - Larry, Small Company Owner
2. Improved Compliance - Compliance calendar software helps ensure you will remember and recognize a task, especially when the software sends out automated reminders of upcoming due dates. Additionally, a centralized compliance calendar allows anyone in your organization to see what is coming due and verify that required tasks are completed.
3. Improved Efficiency - Compliance calendar software can store information on how to complete specific tasks, insights and tips from the last task completed, links to documents that need to be completed and more. These functions make it much more efficient when it comes time to complete the compliance task. It also makes it easier for someone else to pick up and complete tasks.
4. Proactive Compliance - As regulations shift and change, many organizations find themselves putting out one fire only to discover a new one. Compliance calendar software offers a way to plan for your organization's compliance needs, gather data, and allocate the resources needed to meet the obligation
5. Improved transparency - Compliance calendar software increases visibility across your organization and allows you to monitor the completion status of internal and external tasks. As such, management stays informed and can help ensure that needed resources are available for upcoming compliance tasks.
6. Improved Accountability - Compliance calendar software can help ensure that all relevant parties are aware of compliance requirements and deadlines, enhancing accountability across the organization
Compare Compliance Calendar Software To Other Options
Spreadsheet - Spreadsheets such as Microsoft Excel or Google Sheets can work well if the number of compliance deadlines, and the people responsible for completing the required tasks, are limited. However, when there are a lot of tasks or responsible people, organizing the data and maintaining the integrity of the spreadsheet becomes easier.
Email Calendars - Tracking your tasks in an Outlook Calendar can also works. Unfortunately, this approach does not provide a clear overview of regulatory requirements. This can result in tasks getting overlooked when they're mixed in with birthdays, meetings, and everything else that email-based calendars commonly track.
Compliance Calendar Software - Compliance calendar software is the best way to go for larger companies or small companies in highly-regulated industries. With compliance calendar software, you can:
Manage an infinite number of compliance tasks
Distribute responsibility for compliance tasks throughout your organization
Send automated email notifications and reminders when compliance tasks are assigned and coming due
Escalate notifications when compliance tasks become overdue
Easily communicate your organization's compliance status via dashboards and reports
How To Build and Use A Compliance Calendar
Select A Compliance Calendar Tool - Whether it be a spreadsheet, email calendar, or compliance calendar software solution, something is better than nothing. That being said, populating the tool that you choose is going to take some time, so it will be in your best interest to select a tool that best fits your current and future needs.
Develop a List of Compliance Requirements - The goal here is to try to capture all of the compliance tasks that you and your team need to do on a recurring basis. To compile your list, it can be helpful to:
Review permits
Review written policies and procedures
Ask employees what they do and why they do it (if its critical to your success or your company's compliance, it should be included on the compliance calendar)
Populate Your Compliance Calendar - Once know what has to happen for your organization to stay in compliance, that information needs to be added to your compliance calendar,so that it becomes part of your institutional knowledge.
Implement Your Compliance Calendar - After your compliance calendar has been completed, its time to roll it out to your organization. To ensure success, you'll need to:
Provide training on how to access the compliance calendar, how to complete a task, etc.
Implement recurring reminders (If the system you selected is able to send out automatic emails, turn this functionality on. If not, setup a schedule when employees should check the compliance calendar to review upcoming tasks/deadlines.
Maintain Your Compliance Calendar - For continued effectiveness, compliance calendars need to be reviewed and updated:
At least annually
When personnel or job responsibilities change
When regulatory or compliance requirements change
When new permits are issued
When new processes or equipment are added
For a more comprehensive guide to creating a Compliance Calendar, please see our additional resources:
At Ecesis, we have Compliance Calendar Software that's easy to implement, learn, and use. For more information or to schedule a free trial of our software, please call (720) 547-5102 or email us.