Is My Work Vehicle DOT Regulated?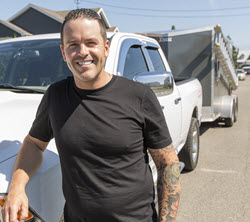 If your truck is heavy-duty or hauls a trailer, it could be regulated by the U.S. Department of Transportation (DOT). DOT regulations apply to any vehicle that crosses state lines with a Gross Vehicle Weight Rating (GVWR) of 10,001 pounds or more. A vehicle's GVWR is assigned by the manufacturer and represents how much they believe the vehicle (or trailer) can safely carry. The GVWR can commonly be found written on the vehicle's VIN Plate that is commonly located at the end of a vehicle's driver door.
As an example, a Dodge Ram 1500 pickup drives across state lines and has a GVWR of 6,800 pounds. If this truck was pulling a 16-foot ATV trailer with a GVWR of 7,000, it's combined GVWR would be in excess of 10,001 pounds and thus it would be considered a commercial motor vehicle and be DOT regulated.
My Work Truck Is DOT Regulated; What Is Required?
If your vehicle is DOT regulated, you must:
Apply for and maintain a DOT Number (see the FMCSA Registration Page)
Have the DOT Number and Company Name visible on the Vehicle (Part 390.21)
Ensure the driver is qualified, inclusive of a medical examination (Part 391)
Comply with driving safety regulations regarding alcohol, seatbelts, use of cell phones, etc. (Part 392)
Use vehicles/trailers that meet certain design requirements (lights, reflectors, brakes, tires, etc.) (Part 393)
Comply with hours of service regulations (Part 395)
Comply with vehicle inspection, repair, and maintenance requirements (Part 396)
Document and report accidents (Part 390.15)
Stop at Ports of Entry (depending on state, this requirement can apply to vehicles with a GVWR of as little as 8,000)
Is a Commercial Drivers License (CDL) Required?
Typically, a Commercial Driver's License (CDL) is unnecessary unless the vehicle is transporting hazardous materials requiring placarding or possesses a combined Gross Vehicle Weight Rating (GVWR) of 26,001 pounds or higher. In these specific cases, obtaining a CDL becomes a requisite to ensure compliance with relevant transportation regulations and safety standards.
How Can EHS Software Help Manage Your Company's DOT Compliance Program?
EHS Software heps with: