PPE Hazard Assessments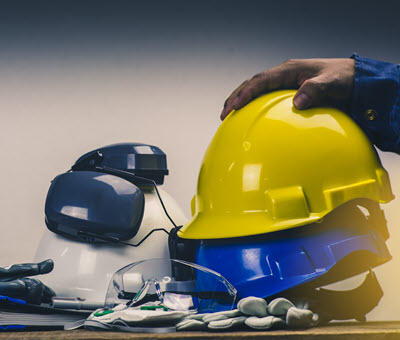 Personal protective equipment (PPE) is designed to protect people on the job. Used in the workplace and regulated by OSHA, it is worn to reduce exposure to potential hazards. PPE can help prevent injuries and illnesses and potentially save personnel lives.
In this article we provide a Free PPE Hazard Assessment Form along with information on why PPE Hazard Assessments are important and how to complete them.
Why PPE Hazard Assessments Are Needed
An effective PPE Hazard Assessment process will help your company or organization:
Protect employees Health and Safety
Comply with OSHA requirements (see 29 CFR 1910.132(d))
Improve employee culture and engagement
Improve workplace performance
PPE Hazard Assessment Options
Paper Forms For PPE Hazard Assessments - Paper records are effective only when you need to complete a few PPE Hazard Assessments. When you have multiple tasks to assess, managing and accessing paper records can be difficult.
Software For PPE Hazard Assessments - For large companies, or even small companies with a large number of tasks and hazards, software is the best way to go. With our PPE Hazard Assessment Software, you can:
Efficiently complete hazard risk assessments
Quickly access and fill out hazard assessment forms while in the field, thanks to our mobile app
Instantly view metrics to see which tasks present the highest risks
Document annual reviews and track changes over time
How to Complete a PPE Hazard Assessment
An effective PPE Hazard Assessment begins with surveying your workplace or job site to identify and list all of the tasks that are performed. Then, for each identified task follow the steps listed below:
1. Identify Hazards - Observe each task to identify hazards that employees may be exposed to while performing the task.
Note: It's also important to consider hazards to other employees who are or could be present in the area where the task is being performed. Often, this will result in PPE requirements that apply to anyone who enters the area where certain high-risk tasks are being performed.
The following table lists a few common hazards and examples of their sources.
| Hazard | Example Sources |
| --- | --- |
| Impact | Equipment with pinch points, portable equipment such as a chisel, flying fragments and dust |
| Compression | Heavy objects, mobile equipment, equipment with pinch points |
| Penetration | Saws, sharp objects, boards with nails, portable equipment such as nail guns or drills |
| Chemical Exposure | acids, bases, toxics, poisons |
| Inhalation | Dust, chemicals, mold, asbestos |
| Thermal / Cryogenic | Arc flash, fires and explosions, hot or cold surfaces and materials |
| Heat/Cold Exposure | Hot or cold work environments |
| Dangerous Light | Welding, UV light sources, lasers |
| Biological | Blood/OPIM, mold, fungus, bacteria, viruses |
| Electricity | Electrical equipment, batteries, lightning |
| Radiation | Some types of lab and measurement equipment, microwaves |
| Drowning/Engulfment | Bodies of water, grain and other flowable solids |
| Noise | Loud equipment or surroundings |
| Ergonomic | Work positioning, repetitive motion |
2. Evaluate Non-PPE Controls - Personal protective equipment is generally the least effective way to protect employees. As such, you need to evaluate whether hazards may be eliminated by means other than the use of PPE, such as:
Elimination - Can the task be eliminated, such as through implementation of an automated process?
Substitution - Can an alternative be found to remove a portion of the hazard, such as using a less toxic chemical or different tool?
Engineering Controls - Can guarding or sound dampening be implemented to better control or prevent access to the source of the hazard?
Administrative controls - Can better operating practices be implemented, or can access to specific areas be restricted?
3. Select Required PPE - Once you've evaluated the ability of the above control methods to reduce or eliminate workplace hazards, you must determine what PPE will be necessary to protect employees from the remaining risk. When selecting PPE, consider:
Level of Protection - Will the PPE provide the required level of protection?
Compatibility - Is the PPE compatible with the materials and chemicals associated with the process?
Fit and Dexterity - Will the fit of the PPE provide enough dexterity to efficiently complete the task?
Comfort - Is the PPE comfortable enough that employees will wear it?
4. Document Your Hazard Assessment - Once you've identified the hazards and personal protective equipment requirements for each task, you must document this information in the form of a Certification of Hazard Assessment. This Certification should include the:
Name and description of the task evaluated
Hazards identified and corresponding PPE requirements
Date the assessment was completed
Name of the person certifying the assessment
Note: Certification is a requirement of OSHA's PPE Standard (29 CFR 1910.132(d)(2)).
5. Obtain and Distribute Required PPE - Now that you know what PPE is required, you need to ensure that it's readily accessible to your employees in the areas where they'll need to use it.
6. Train Employees - Once the personal protective equipment that is required is available and placed where workers will use it, you need to make sure that your employees know what's needed to keep them safe. This PPE training must include:
When PPE is needed
The types of PPE that are required
How to use required PPE
Any limitation of the PPE (such as chemical compatibility)
How to care for and maintain the PPE
7. Maintain Your PPE Program - After you've completed your assessments, obtained your personal protective equipment, and trained your employees, you must:
Maintain an adequate supply of PPE
Demonstrate leadership and commitment by ensuring that management wears PPE in areas where it's required
Monitor and enforce PPE usage
Have a process for reviewing and updating PPE hazard assessments:

At least annually
When processes or equipment change
When new processes or equipment are added
Hazard Risk Analysis And Assessment Software For PPE
While the task of implementing, sustaining, and revising a PPE program may appear formidable, our hazard analysis and assessment software simplifies the process. Our user-friendly software solution streamlines these efforts, providing ease of implementation and usage. Beyond managing PPE, the software adeptly tracks high hazard tasks, risk mitigation strategies, incidents, operational disruptions, OSHA compliance, and a host of other crucial elements.
For more information or to schedule a free trial of our hazard analysis and assessment software, call (720) 547-5102 or e-mail us.
Please note that in addition to hazard and analysis software, we also have compliance obligations software, and other comprehensive EHS software solutions, including: management of change software, compliance management software, audits and inspections software, compliance obligations software, and incident management software.