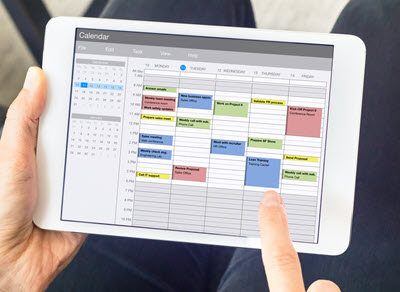 Safety first! It's a common slogan, but not something that every employee, department, and company necessarily takes to heart. Yet, because of the myriad of safety compliance regulations that might apply to your organization, safety needs to be a priority 24/7.
At Ecesis, we make it easy to put safety first - and safety compliance first - thanks to our Safety Compliance Calendar Software and app.
Our Safety Compliance Calendar software is easy to implement, learn, and use. It will help you get organized, stay in compliance, avoid fines, prepare for inspections, decrease risk, and increase safety.
Safety Compliance Calendar Software Features
Top features of our robust and flexible Safety Compliance Calendar Software include:
all of the safety compliance information you need, at your fingertips
one centralized list of all of the safety compliance requirements that apply to your operations
automated reminders and notifications for tasks and deadlines
instructions for how to complete safety compliance tasks
a mobile app that makes it easy to view and update info from anywhere you are
Track All Types Of Safety Compliance Tasks And Deadlines
Our Safety Compliance Calendar Software can easily track and manage:
safety recordkeeping
safety inspections
safety deadlines and compliance dates
injury, incident, and illness reports
safety tasks
safety instructions, protocols, and best practices
safety communications
safety requirements
safety training
safety documents and reviews
safety resources
safety plans
emergency and evacuation plans
fire prevention and protection plans
chemical and hazardous waste plans
biological hazards plans
industrial hygiene plans
PPE (personal, protective equipment)
process safety management plans (PSM)
safety audit histories
safety program contacts within your organization
OSHA compliance requirements (Occupational Safety and Health Administration)
EPA compliance requirements (Environmental Protection Agency)
DOT compliance requirements (Department of Transportation)
EHS compliance requirements (Environmental, Health, and Safety)
For more information or to schedule a free trial of our Safety Compliance Calendar Software, please call (720) 547-5102 or e-mail us.
See also: