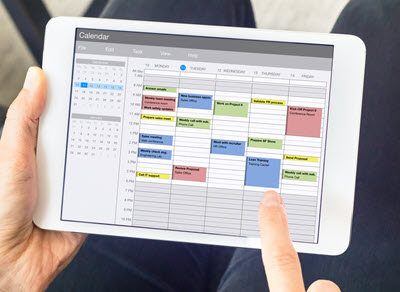 Regulatory Compliance Calendar Software
Keeping your operations, facilities, equipment, and employees in compliance with required rules, regulations, laws, and practices is no small task.
Because of ever-changing laws and regulations, compliance is an ongoing challenge - made more difficult if you're in an industry that's highly regulated or if you're growing quickly, have decentralized operations, and/or have high employee turnover.
Fortunately, no matter what your challenges are, we have the tool you need to get in compliance and stay in compliance: Regulatory Compliance Calendar Software! Thanks to this unique compliance calendar software, you can be proactive and ensure that nothing slips through the cracks.
Our comprehensive Regulatory Compliance Calendar Software and mobile app is easy to implement, easy to learn, and easy to use.
Regulatory Compliance Calendar Software Features
With our Regulatory Compliance Calendar Software, you can:
see both the "big picture" and specific details of compliance requirements and tasks
enter and track all compliance deadlines and requirements in one central place
make sure that compliance tasks get completed on time and correctly
establish and maintain internal policies and procedures
identify and correct gaps in compliance
conduct and track audits and follow-ups
monitor safety incidents
schedule employee training
manage accreditations
produce annual reports
maintain "institutional" knowledge, even after employees quit
keep a historical record of everything related to regulatory compliance
Easily Stay In Compliance
The Regulatory Compliance Calendar Software can be used for safety compliance and environmental compliance, including:
company regulations
industry regulations
local regulations (city and county)
state regulations
federal regulations
OSHA regulations (Occupational Safety and Health Administration)
EPA regulations (Environmental Protection Agency)
EPCRA regulations (Environmental Planning and Community Right-To-Know Act)
FIFRA (Federal Insecticide, Fungicide and Rodenticide Act)
DOT (Department of Transportation)
We believe that our compliance calendar software and app is the best regulatory management solution out there, and we'd love to step you through its features in a free demo!
For more information or to schedule a free demo or trial of our Regulatory Compliance Calendar Software, please call (720) 547-5102 or e-mail us.
See also: