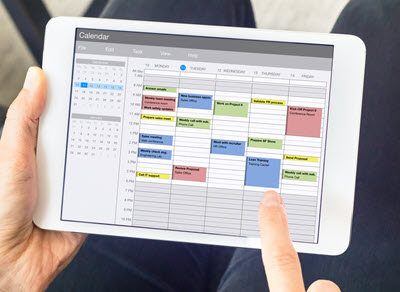 EHS Compliance Calendar Software
EHS compliance is a 24/7, year-round task, and it doesn't just fall to an EHS professional or manager. Everyone in your organization bears some responsibility for ensuring you stay in compliance with the various EHS laws, rules, and regulations. But how can you possibly track whether every requirement is being met - particularly if you're in a heavily regulated industry and/or have a large operation?
With our EHS Compliance Calendar Software and app, that's how!
Our EHS Compliance Calendar Software is robust enough to do everything you need, yet simple enough to learn, implement, and use.
The EHS Compliance Calendar Software will help ensure that you meet all of your company, industry, local, state, and federal compliance requirements... and it can help make everyone in your organization accountable and ensure that nothing is left to chance.
EHS Compliance Calendar Software Features
Top features of our EHS Compliance Calendar Software include:
EHS compliance dates and deadlines that you can view, at a glance
a centralized list of EHS compliance requirements
customization, to your exact specifications
ability to assign and track EHS compliance tasks
automated notifications and reminders
EHS audit histories and follow-ups
historical EHS compliance data and institutional knowledge, at your fingertips
a mobile app that you can use anytime, from anywhere
Software Designed For All Types Of EHS Compliance
EHS Compliance Calendar Software can be used for:
OSHA compliance
EPA compliance
process safety management compliance
safety compliance
air quality compliance (including annual emissions inventories and greenhouse gas emissions reports)
water quality compliance (including backflow prevention inspections)
waste management compliance (including universal waste disposal)
hazardous waste compliance
wastewater compliance (including discharge certifications and monitoring reports)
stormwater compliance (including sampling, inspections, and reports)
groundwater compliance
spill compliance (SPCC plans)
hazmat compliance
asbestos management compliance
DOT compliance (registrations and hazmat training)
LDAR compliance (leak detection and reporting)
TSCA compliance (Toxic Control Substances Act)
ISO 14001 compliance for an effective environmental management system (EMS)
injury and illness reporting compliance
employee training compliance
annual trainings compliance
administrative compliance
ECESIS - The Software You Need, The Support You Deserve
At Ecesis, we've designed the EHS compliance software solution you need, with the technical support you deserve. Our technical support members have EHS knowledge, and we also make it easy for you to transfer all of your data from another software, so that you can hit the ground running with our EHS software.
For more information about our EHS Compliance Calendar Software and app or to schedule a free trial of our EHS Compliance Calendar Software, please call (720) 547-5102 or e-mail us.
See also: